Site content copyright © Brewster West Motorsports

THE 2019 SHORT TRACK RAW

Uncompromising performance. Unbeatable Price

The Timbersled ST 120 RAW is the best priced Timbersled system…ever. Don't let the low price fool you- the S T120 RAW comes feature-packed; and full of Timbersled performance technology. Ride the ST 120 RAW, and feel how price and performance come together in this awesome Timbersled system.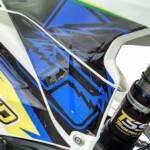 NEW TIMBERSLED SUSPENSION STRUT (TSS) (OPTIONAL)

Add TSS and restore that dirt bike "pivot" in the rear suspension that we've all dreamt of but that snow bikes have never had. TSS adds 8.5" of additional plush suspension and makes the Timbersled feel shorter and more nimble.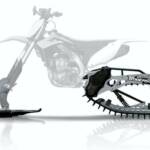 AGGRESSIVE LOOKS COME STANDARD

The ST 120 RAW features our latest side panel design that saves weight and adds strength and styling.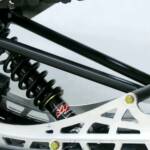 PRECISION HANDLING

The ST 120 RAW provides crisp handling on any terrain by using our proven non-pivoting front suspension arm.

The ST 120 RAW also utilizes custom valved RYDE FX MPV Motion Control coil over shocks to provide a great ride in all terrain.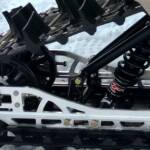 THE ULTIMATE ON-TRAIL AND DEEP POWDER TRACTION

The Timbersled Convex 2.5 track comes standard on the ST 120 RAW; providing unrivaled trail and mountain performance.

RMK® TECHNOLOGY

The ST 120 RAW is infused with RMK technology- including the new I-beam rails and bump stops.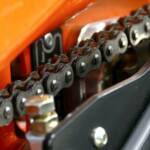 NEW EK X-RING CHAIN

All 2017 Timbersled Systems feature the EK X-Ring chain with proven strength, durability and performance on all 2011-2015 models.

WHAT'S INCLUDED?

ST 120 Raw track system, 10" Backcountry ski and spindle, new EK X-ring chain, 5' brake line. Requires TSS or Solid Strut Install Fit Kit.